Bing recently introduced a new and very useful search operator, called "linkfromdomain". Basically it allows you to find all the web pages that a certain domain is linking to. For example, if you search on Bing for
linkfromdomain:microsoft.com
you will find all the pages that the microsoft.com domain is linking to. You can also add normal search parameters to your query, to make it more specific. For example, if you searched for
linkfromdomain:microsoft.com windows
you will find all that pages that are being linked from the microsoft.com domain and that contain the word windows inside them.
Cool, right? I am sure that webmasters will come up with all sorts of creative ways to use that operator. From example, many people are already using it for linkbuilding purposes, as the operator allows you to find what kind of content a particular domain likes and links to. SEOMoz has an interesting article on the topic.
Playing around with it I also came up with an interesting use: finding spammy links inside your own website. We all know that linking to "bad neighbors" can hurt your search engine rankings, so spotting and removing those links is essential. This new operator can help you with that task, and here is how.
First of all run the operator for your own domain, and add spammy keywords to the search query. For example, once searched for
linkfromdomain:dailyblogtips.com viagra
I got 213 results. Those are basically pages from around the web that contain the word "viagra" and that my blog is linking to.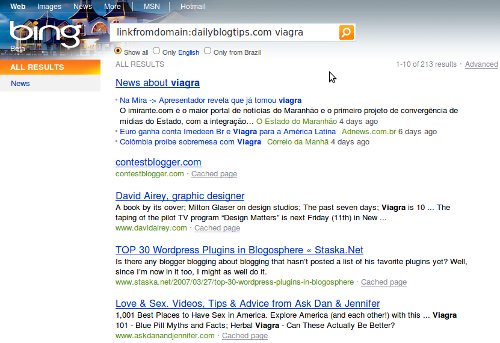 The next step to examine each of the pages on the results, trying to identify if they are spammy/malicious or not. On the very first page of results I came across a page that was serving malware. Once I clicked there I got the alert from Google saying it could damage my computer. Linking to such pages is a big no-no.
Now we need to find what page inside your website is linking to the malicious page. Luckily Google can help us here. Basically you will need to combine two operators. Let's suppose that the URL of the malicious page is http://www.domain.com/bad-stuff/. You will need to run a query that will find all the pages inside your site linking to that URL. Here is how you do it on Google:
link:http://www.domain.com/bad-stuff/ site:yoursite.com
The first operator ("link:http://www.domain.com/bad-stuff/") finds all the backlinks pointing to that page, and the second one ("site:yoursite.com") filters the results only to pages inside your own domain name.
Once I used this query I found exactly the page inside my blog that was linking to the malicious site. After that it was just a matter of updating the post to remove that link. The process will take some time, but I believe it is well worth it, because linking to spammy and malicious websites is a big problem.