How do you buy a domain name? A guide
Having your own website as a "digital business card" or point of contact for customers is almost indispensable in today's connected world. Social media channels also offer an excellent platform for presenting yourself online but are automatically tied to the respective third-party providers and their specifications. Your own website gives you much more freedom in terms of design. However, for users to find and visit your web project, you definitely need a catchy web address, also known as a domain, that fits your service, your style, your company, or your products.
Tip
A good website naturally comes at a price. Read up on it in our Digital Guide and find out what your options are for making your project a reality, and how much setting up a website costs!
How do you buy a domain or how do you register and purchase a domain if the domain ending you have your eye on is currently not available? These and more questions on the topic of buying a domain are explained step by step below, using IONOS as our example.
Step 1: Choosing a reputable domain registrar
The allocation of all available domain endings has been the responsibility of ICANN (Internet Corporation for Assigned Names and Numbers) since 1998. The organization manages all established and new top-level domains and sells the allocation rights to registries, which in turn work together with domain registrars (also known as domain providers). So, if you want to get a suitable address for your website, the first step is to choose a suitable registrar. Here you should not only pay attention to the costs, but also make sure that the desired top-level domain is available.
In addition, it is important that you choose a serious provider. Otherwise, you run the risk of the purchased domain not being registered correctly or not being available at all. In our big domain provider comparison, we took a closer look at the best domain startup sites like IONOS and united-domains for you.
Tip
You don't necessarily have to register a domain just for your own website – the domain trade has been booming for years now. You can find out more on this topic in our article "Domain trading: How can you make money with domains?".
Step 2: Finding a suitable domain name including top-level domain
As mentioned, the name plays an important role in the success of your web presence. A catchy and suitable combination of the domain extension (top-level domain) and domain name (second-level domain) is important so that visitors access your site not only by clicking on links, but also through search engine results. Google also takes the domain name into account when evaluating the site's ranking for search results, which is why a suitable name can help you to achieve a better ranking.
As far as second-level domains are concerned, you basically have free rein in terms of design options. Names with up to 63 characters made up of letters and numbers as well as hyphens can be used. The big challenge is to match the name with the desired top-level domain. The most popular domain extensions are often already taken or reserved in all kinds of variations. For more information and assistance when it comes to finding a suitable domain name, our detailed guide on top tips for registering your domain should be helpful.
Step 3: Checking the availability for the address with a domain finder
Once you have one or ideally several options for your website name in mind, it's time to check its availability. Almost all major domain providers offer access to special tools for this purpose, also known as domain finders. Typically, what you do is you enter your desired domain in the tool's search bar and then start the search. With the domain finder from IONOS, for example, you do this by clicking on "Check".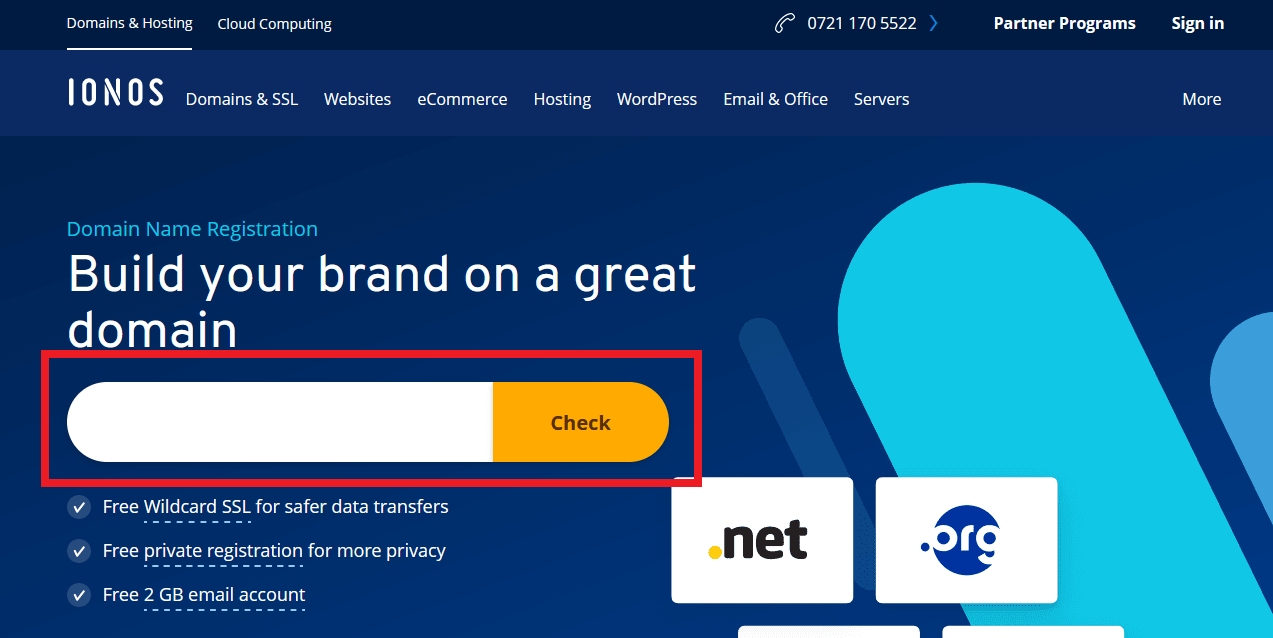 After a short waiting time, you'll receive the result of the search: If the address is still available, the tool confirms the availability. Otherwise, you will receive a notification that the desired domain is already taken or registered. With many providers, you will automatically receive suggestions for alternative top-level domains or revised second-level domains in this case. This is also the case with the IONOS domain finder.
Step 4: Registering a domain
The availability check gives you certainty whether your desired domain is free or taken. But how exactly do you buy a domain?
The domain finder of respective providers can be used for this purpose as well. After all, once you have checked an address, you'll typically see buttons (e.g., a shopping cart icon) that take you directly through the purchase and registration process. The "Add to cart" button is another popular choice, which is also used by IONOS to proceed with the purchase of your domain. Click the button next to the desired domain or next to all the domains you want to buy and select "Continue" in the window that pops up: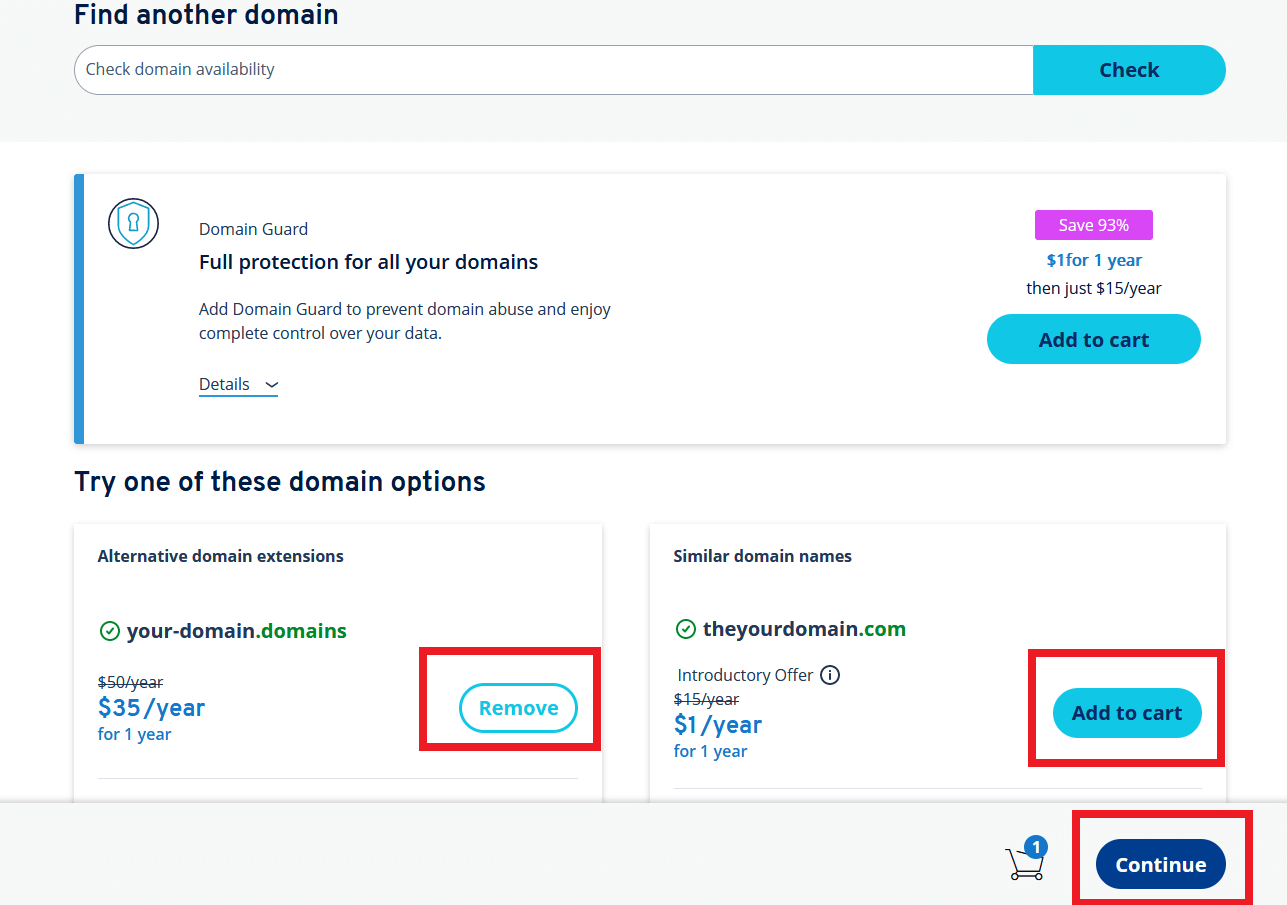 Keep the already selected option "Domain only" checked if you are not interested in another IONOS product.
Tip
If you register a domain with IONOS, you have the option of purchasing add-ons like an email address that matches your future domain, MyWebsite builder, or an all-encompassing hosting package to bring your web project to life!
You'll now receive a list of the monthly costs for all currently selected domains (including options for contract duration). Finally, confirm the conditions by clicking on "Continue":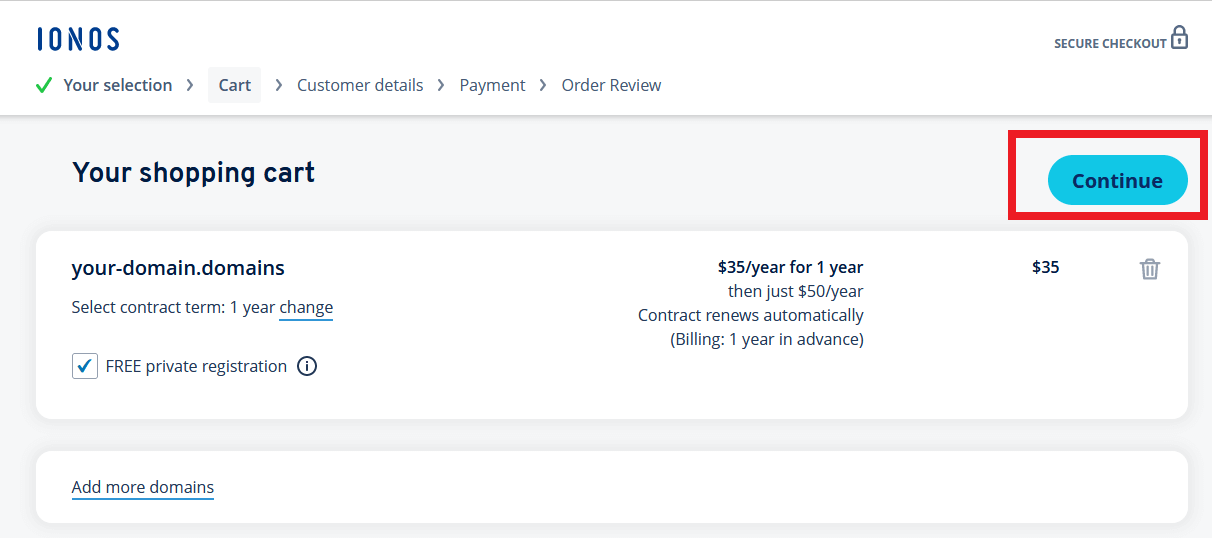 Tip
For some top-level domains, IONOS offers the option of a free "private" registration. If you choose this option, your data will not be published as part of the WHOIS domain name look up: IONOS acts as a proxy!
Create an IONOS account or log in to your active IONOS account to proceed with the payment processing. You can also pay your domain(s) directly via PayPal.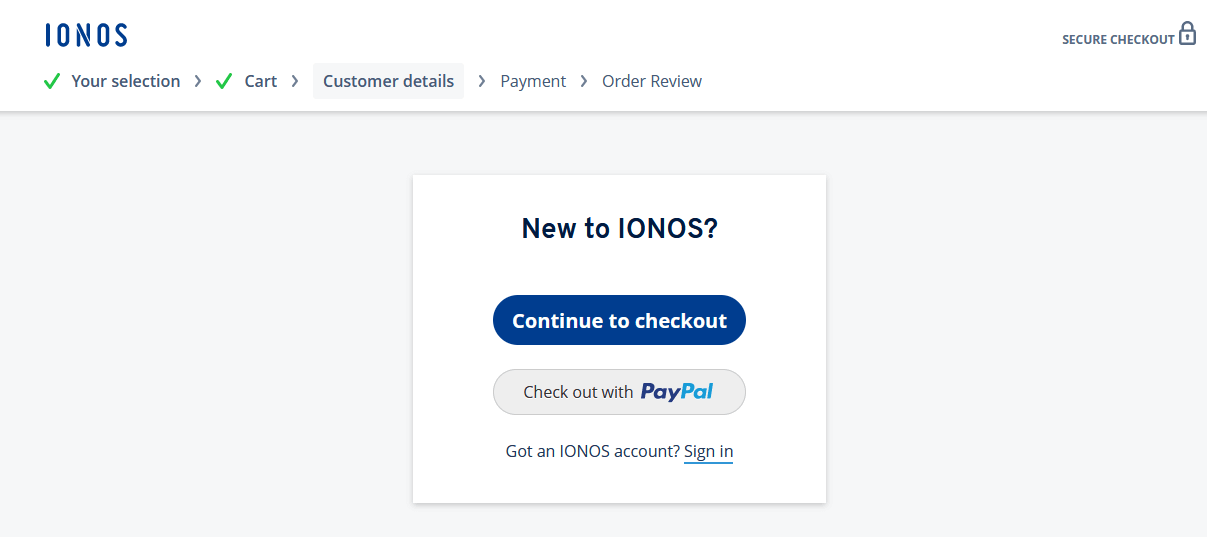 Tip
The costs of buying an address for your web project depend on various factors such as the domain type or the popularity of the domain ending. More information on this can be found in our article "How much does a domain cost?".
Step 5: Verifying ownership of your new domain
According to an ICANN regulation, domain providers are obliged to check the contact data of domain buyers for authenticity as of September 1, 2014. This applies to both the new and the classic, generic top-level domains. Therefore, following the purchase of a new web address, providers will send an email to the contact address you provided during registration.
Note
When you're switching domain providers your provider must also verify the authenticity of the contact details via email.
The key part of this email is a verification link, which you can use to confirm your ownership within 15 days. Usually, the provider sends a reminder email after one week if you have not verified yourself by then. If the 15-day period is exceeded, the provider will deactivate the domain. By providing new contact information, the verification process can be re-initiated at a later stage. However, ICANN reserves the right to release web addresses again if confirmation is not received for a longer period.
How do you secure a domain name?
New TLDs are highly coveted but will only be released by ICANN gradually. If there is no release for a domain at the time of the availability check, you cannot buy the address you're after with this TLD yet. However, you can secure or reserve the domain with the provider of your choice. With IONOS, you proceed as described in step 4 (registering a domain):
Press "Select" when you've found your desired address and continue with the process by selecting "Continue". Instead of the cost overview you will now find a contact form. Log in with your existing IONOS account or enter the requested information (name, email, and phone number) and finally confirm so that you can pre-reserve your domain name.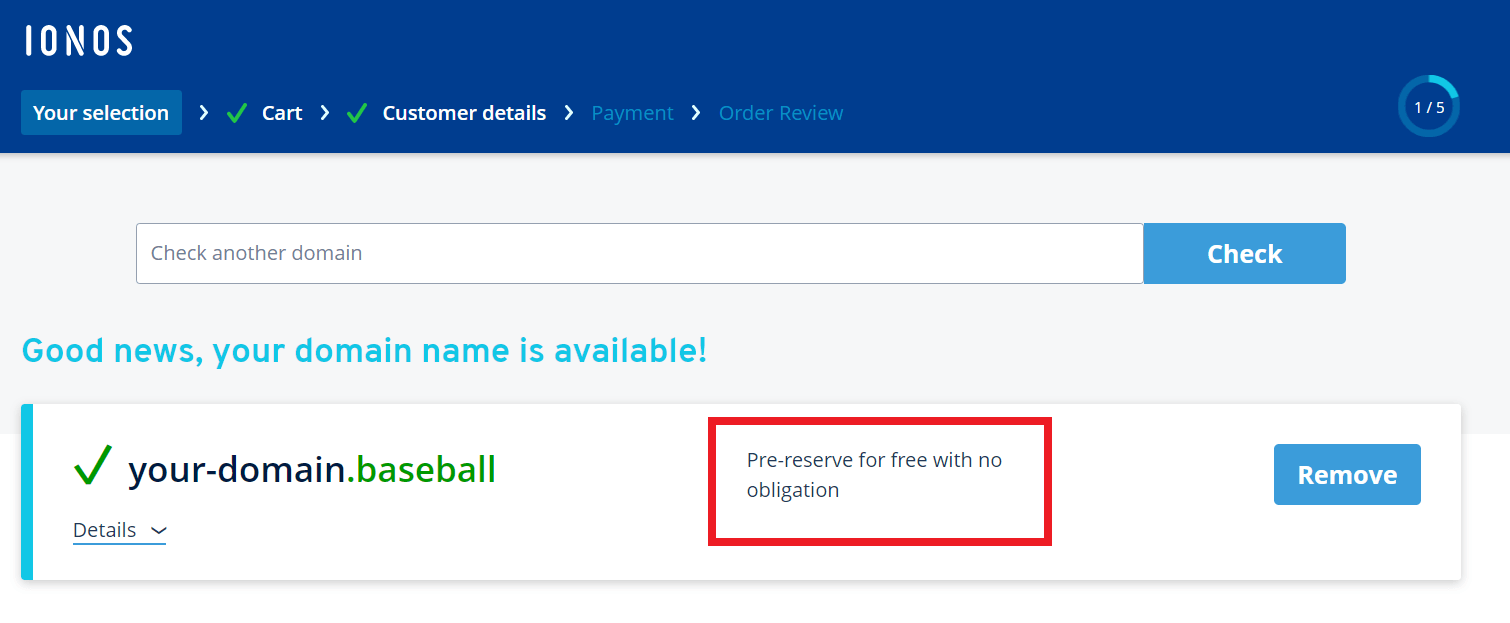 Tip
Secure your domain or domains with a SSL/TLS certificate from IONOS. The security procedure encrypts all communication channels of your web project – whether form entries, comments, or user logins – and in doing so ensures maximum protection of transmitted information against third parties.
How do you buy a domain that isn't available anymore?
If your desired domain is already taken, you generally don't have the option to buy it from the provider – even if the address isn't being actively used. However, you can try to locate the domain owner (via a WHOIS query in the corresponding registry database) to make an offer to buy the domain. For information on the entire process, from locating to purchasing to the final transfer of the domain, see our article "Domain already registered? Here's what to do".
A summary of the most important tips for buying a domain
Your web address should be considered the flagship of your website or online store. So, when looking for a good combination of top- and second-level domain, it's best to leave yourself enough time to find a satisfactory solution. Below, we've summarized some tips that will help you to make this process as successful as possible.
Analyze the market: Find out which top-level domains are particularly in demand in your industry and combine them with a meaningful name that suits you and – if possible – includes important keywords.
Consider trademark rights: Make sure that your desired domain does not violate any trademark rights and does not contain any protected terms. Also avoid obvious similarity to registered trademarks.
Avoid long domain names: Visitors should remember your web address – whether they've heard of it or have been to the site before. Therefore, look for a catchy name that is as short as possible.
Keep numbers and hyphens to a minimum: There are many options for domain name design. However, you should keep numbers and hyphens to a minimum.
Include typo domains: Misspelled words or other typos will ensure that the targeted website cannot be accessed. If you register domain names with common errors as well and redirect the domains to your website, you counteract this problem.
Solicit feedback: Discuss your ideas for appropriate TLDs and domain names with other people. These people don't necessarily have to be colleagues and experts, but also friends, acquaintances, and family members who can provide important input as potential target group(s).
Tip
Are you searching for a suitable solution to realize your web project? Use the MyWebsite Design Service from IONOS and let our design experts design a custom website for you.