Escrow.com released its Domain Investment Index report for 1st Quarter of 2022.
Escrow.com continued a strong volume of domain name transactions in Q1 2022, with this quarter topping more than $130 million in transactions.
The return-on-investment for domain names has sustained the high performance from Q4 2021, which recorded a record breaking number of transactions. Compared to Q1 2021, the median return on investment in Q1 of this year is 38.89%.
In Q1 2022, transactions for four-letter and four-character .com domain names were the most popular category and dominated growth for the quarter. The median price of four-letter .com domain names increased to $12,000 in Q1 2022, from $7,500 in Q4 2021. The median price of
four-character .com domain names increased to $11,225 in Q1 2022 from $7,250 in Q4 2021.
Escrow.com exceeded $100 million USD in domain sales for the fifth consecutive quarter, continuing to prove to be the world's most trusted and preferred online licensed escrow payment service for buying or selling premium domain names.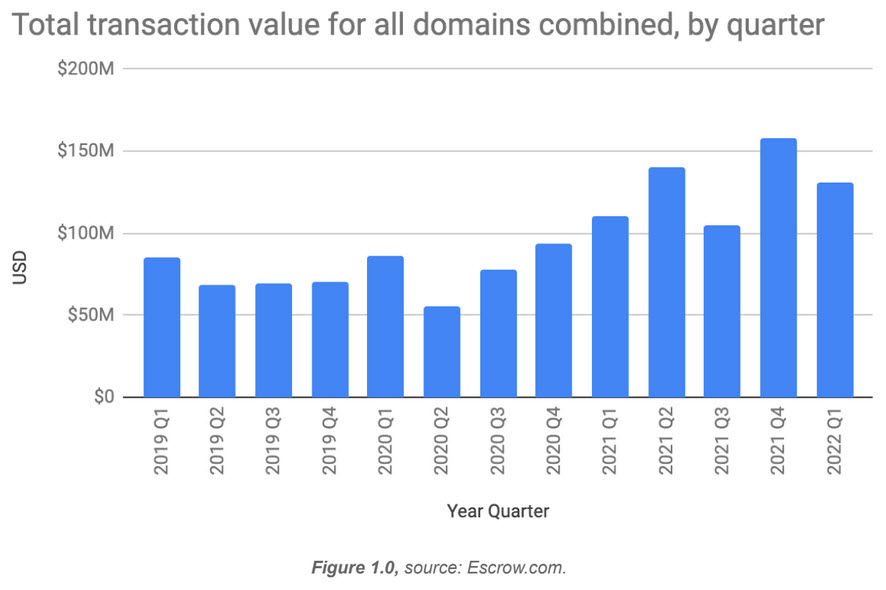 The total transaction value for all domains combined dropped in Q1 2022 to $130M, from $158M in Q4 last year.