The CENTRstats Global TLD Report Q3/2021 has been published. It covers the global status and registration trends in all top-level domains (legacy gTLDs, new gTLDs and ccTLDs), with a specific focus on the European ccTLD market.
Highlights from the report:
Median domain growth in European ccTLDs was 3.7% YOY (Oct 2021), down from the 6 month average and showing signs of stabilisation.
After declines in new domain purchases over Q2, demand picked up again in Q3 although still below the rates of 2020 during the same period. Deletes/non-renewals have been stable and seen a small decline over Q3 2021.
Based on Alexa ranks, .com makes up around 43% of popular domains in CENTR member countries. The rest is made up of European ccTLDs (33%), non-member ccTLDs (14%) and all other gTLDs (11%).
While the median retail price for a ccTLD has been stable over 2021 (10.0 EUR for a 12 month registration , Oct 2021), promotions have become more aggressive with a median of 4.5 EUR in October 2021, down from 6.7 EUR at the beginning of the year.
28% of ccTLD domains queried are broken or have no functioning content (e.g. HTTP/DNS errors, timeouts etc). A further 27% lead to parked, abandoned, blocked or other low content pages. These rates have been stable over Q3 2021.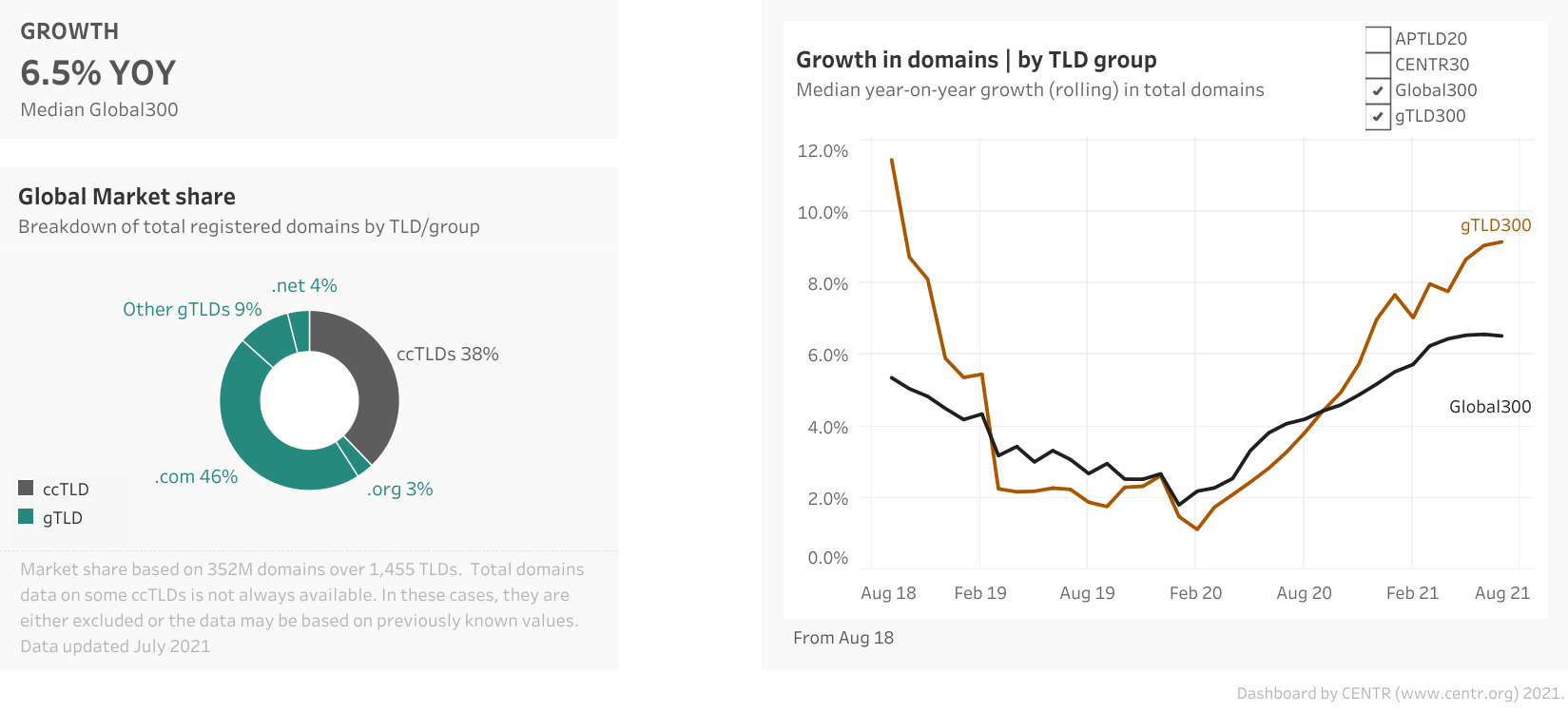 Since early in 2020, the global domain name market has seen some of the highest activity levels and growth rates since the introduction of new gTLDs some 5 to 6 years ago. The median growth of the top 300 largest TLDs (Global300) was recorded at 6.5% in the 12 months to July 2021. This rate may however not climb higher as more recent data from the European market (see above in report) has shown.
By group, growth rates in the 12 months to July 2021 were 4.7% for ccTLDs in the Asia Pacific region (APTLD20), 3.6% for ccTLDs in Europe and 9.2% in the top 300 gTLDs. Growth in geographic gTLDs (city and region names) was generally flat in the first half of 2021, with a median growth of 0.3% in the 12 months to July 2021 (Geo30).
gTLDs remain heavily concentrated in a small group (92% within the top 10) and show no sign of change. New gTLDs have yet to make any significant dent in the overall gTLD market share, and gTLD diversification has actually declined, becoming even more concentrated to the largest gTLD, .com. Over the past 3 years the share of .com within all gTLDs moved from 70% at the start of 2018 to 74% in July 2021.
Based on the top 100 largest gTLDs, data in December 2021 shows that 45% of domains have errors and do no resolve (e.g. connection errors, DNS and HTTP errors) while a further 32% are either parked, abandoned or contain blank pages. This leaves around 24% which have a functioning / developed website. Of these sites, 60% have an MX record, 65% have an SSL certificate and 31% were the result of a redirect.
The pdf version of the report can be found here.