I have no idea how many times I have written about GoDaddy and their remarkable incompetence.
So once again here it is. This is what happened:
A buyer told me he saw one of my domain names for sale for $6,000 at Domain Tools/ Afternic. So he offered me $5,000.
I told him the price is $75,000 and that this is the Buy-It-Now price at Afternic for about a year now.
So I went and checked whois for my domain name at Domain Tools and saw this:
If you click on the link it takes you to the Afternic checkout that shows my BIN price: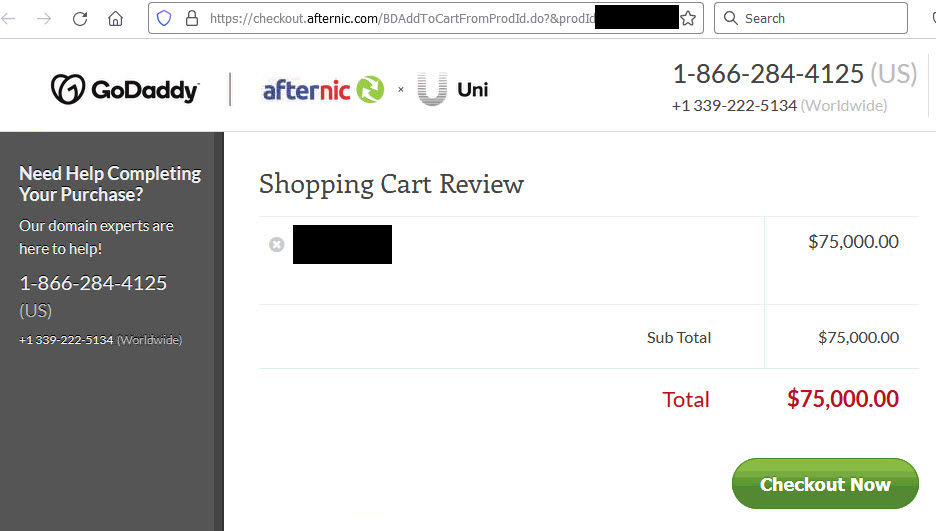 That $6,000 price sure did sound familiar to me so I logged into my GoDaddy (NOT AFTERNIC that only has the BIN price listed) account.
I have the same domain name listed for sale at GoDaddy with a minimum offer price of $6,000 and no BIN!
So…
The code that Domain Tools is using as a GoDaddy/Afternic partner to display domain name prices is pulling the minimum offer from GoDaddy and displaying it incorrectly as the domain BIN price. Then if you click on the link the redirect takes you to the Afternic checkout showing the correct price. If you don't click on the link then you will never see the real BIN price.
Why on earth is this happening???
I even tried entering the same domain name at GoDaddy and it displays the correct price (syndicated from Afternic). Tried some other registrar partners (like Namecheap) and got the correct price as well.

Are all non-registrar partners like Domain Tools displaying incorrect prices? Will you (ever) fix this GoDaddy?
(And yes I still use GoDaddy for some of my domains because for example Afternic will not syndicate all domain names!)
Is any single person responsible for this utter mess we are experiencing in GoDaddy for years?
Will GoDaddy ever fix this inexplicable disaster that we have to work with every single day?
I have been trying for almost a year to add all my priced domains at Afternic and GoDaddy. After hundreds of emails back and forth I have still not successfully added ALL my domains. Every extension or subset of domains has some different problem. This is a labyrinth of bad code, bugs, incompetence and poor management. Problems keeps arising… Some GoDaddy reps only reply to emails once per day… If ever… And this is how GoDaddy works… Total incompetence.
THIS IS A F*CKING DISASTER!!!
And guess what happens when a company sees a domain name for sale at $6,000, then the company has a meeting and decides to purchase the domain and then you tell them the domain is $75,000!!! You lose the damn sale! This is what happens!