Overview of global trends and an analysis of the mechanisms at work during the health crisis.
The global domain name market accounted for approximately 349 million domain names at the end of December 2020, up 1.3% compared to the 4.7% in 2019, broken down between:
155 million .com and 32 million other Legacy TLD (.net, .org, .biz, etc.)
130 million ccTLDs (country TLDs, corresponding to a territory or country like the .fr domain)
32 million new TLDs or nTLDs (geoTLD, brand TLDs and community TLDs and generic TLDs created after 2012).
The market in 2020 – key figures
Following a steady increase since 2018, the market recovery came to an abrupt halt in the second quarter of 2020, with annual growth falling from 6.1% end of April to 1.3% at the end of December.
With 155 million names, the .com domain remains the heavyweight, increasing its market share with +4.4.% growth. The 17 other legacy TLDs continue to lose stock, although this downward trend is less marked than in 2019 (-1.8% in 2020 vs -6% in 2019).
Country TLDs (ccTLDs) are stable at 37% of market share, despite a slight fall in stock (-0.9%). However, these figures do not reflect the reality experienced by most ccTLD registries, which was that of a strong increase.
nTLDs lost 1% of stock following two years of strong growth (+15.4% in 2018 and +19.2% in 2019. This result is primarily due to two factors: the expiry of many .icu in October 2020 and the negative balance of .top domains (-1.6 million names).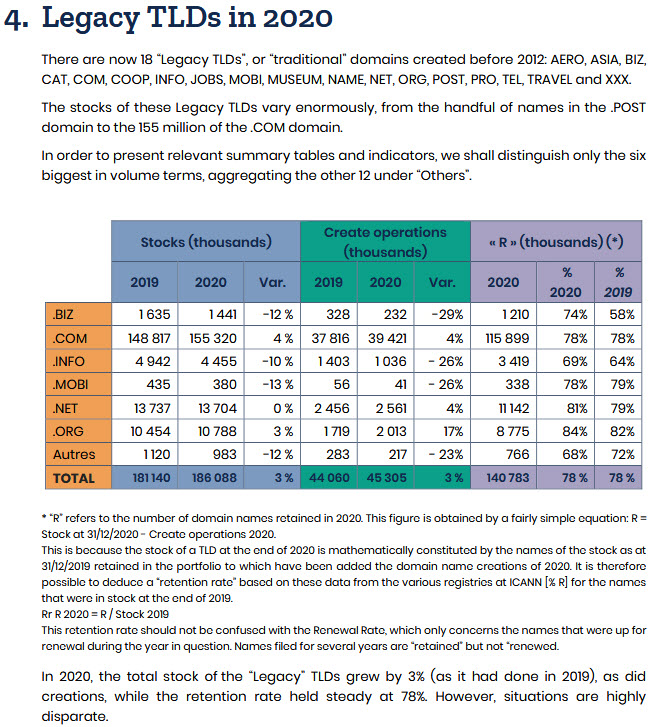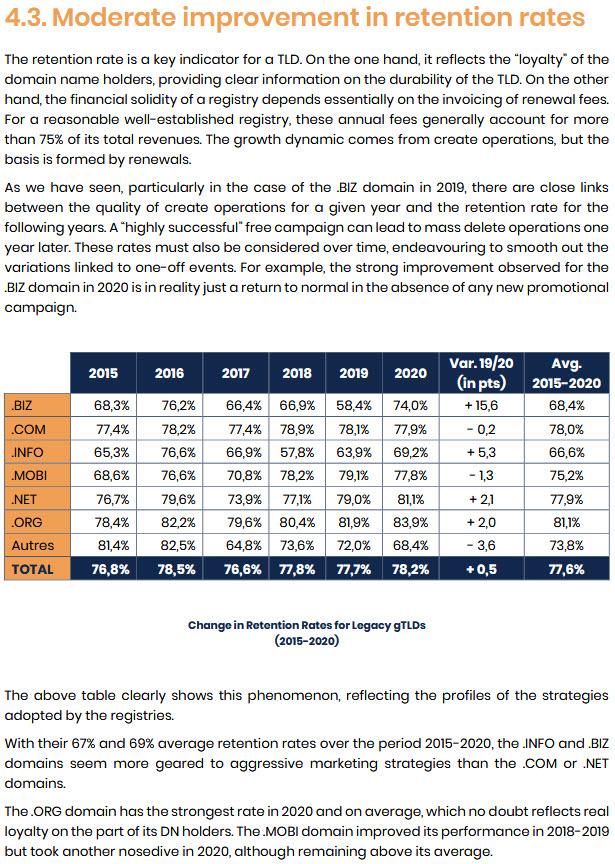 ccTLDs and the digital transition
Taken as a whole, ccTLDs fell by 0.9% in 2020 (vs +4.7% in 2019).
The majority of ccTLD registries experienced a sharp increase in create operations in 2020 due to the acceleration of the digital transition, particularly among VSEs/SMEs, craftpersons and small retailers, like the .fr domain which posted a remarkable year at 7% growth and +14% in create operations.
Nevertheless, three major TLDs were particularly impacted due to their exposure to domaining, and their fluctuations had a decisive influence on the overall performance of ccTLDs in light of their stock: .cn (China) with -6.6% and a loss of 1.7 million names, .tw (Taiwan) domain, and .uk (United Kingdom) with -16.8% and a loss of 2.1 million domain names.
.com: a stable heavyweight
In terms of volume and growth, the .com domain is the only Legacy TLD that has continued to grow, with create operations up +4%, along with .org (+3% in stock and +17% in create operations). This growth remains moderate compared to most ccTLDs, and could be explained by an offset phenomenon: the wave of create operations linked to the digital transition of businesses being offset by the fall in domaining.
The performance of nTLDs
Geographic TLDs (geoTLDs) posted growth of 8% in stock and 45% in terms of create operations, and seem to have also benefited from the effects of the acceleration of the digital transition.
New generic TLDs (gTLDs) are down 3%. This net balance is first and foremost linked to large fluctuations in both directions. It should be noted that some gTLDs linked to e-commerce activities understandably thrived in 2020, such as .shop (+131,000 names), .store (+182,000), and .online (+437,000).
Brand TLDs (.brand) saw their create operations almost double and their growth rate increase by 6%, but at the same time their retention rate fell 23 points. Open .brands posted 4% growth, with positive and negative fluctuations averaging out as for gTLDs.
The figures for Community TLDs cannot be commented as they contain anomalies.
Afnic publishes its annual survey of the global domain name market: Download the full study