Nominet each year visualizes the size and influence of the different national registries – those running country code Top Level Domains (ccTLD) – in The Online World map using the domain name registration volume. The map is created using each registry's total domains under management (DUM) figure; the size of the registry is reflected in size of the country's landmass. This is the geography of the online world measured in DUM.
The pandemic presented a unique year in 2020 and ccTLDs saw an influx of new domain name registrations. For Nominet the peak was immediately after the first national lockdown was announced in March last year: in April, its new domain name registrations hit an eight-year high, a 12% increase compared to the previous month. They continue to see a steady influx of domain name registrations which incorporate terms relating to the pandemic in April 2021, a year on.
CENTR stats show there was a 20% uplift in domain name registrations at 25 ccTLDs in April 2020 compared to April 2019. Germany is a notable example: the .de namespace increased by 31,274 domain names from end March-end April; the same period in the previous year saw just 13,017. The Australian .au ccTLD also reported massive rises in domain registrations: 48,754 new domains were registered in April, which is a more than 23% increase on its April 2019 figures.
CcTLDs have a 33% market share, with the remaining 67% being generic TLDs. Of that 67%, the vast majority (47%) are .com. This is little change year on year. The top five ccTLD registries by DUMs remain unchanged for another year: Tokelau, China, Germany, the UK and the Netherlands. The small island ccTLD (.tk) topping the rankings is free to register.
The Laotian ccTLD, .la grew by 341% last year. The US city of Los Angeles likes to use that one and has been actively promoting it to businesses in the area.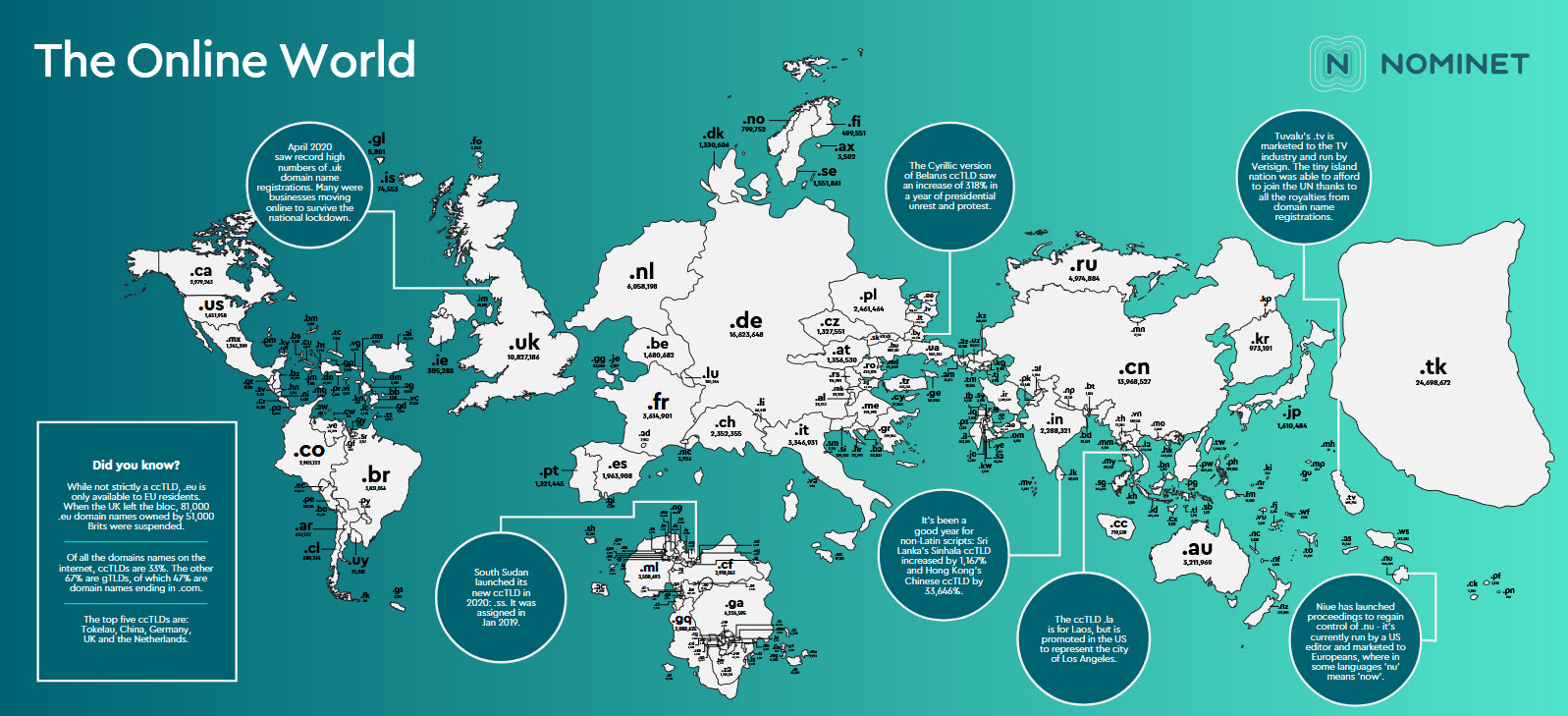 Download The Online World 2020 map here.