The NamesCon domain name auction is now live at GoDaddy Auctions.
You can use the drop down on the popular searches to navigate to the "NamesCon 2021 Auction" listings.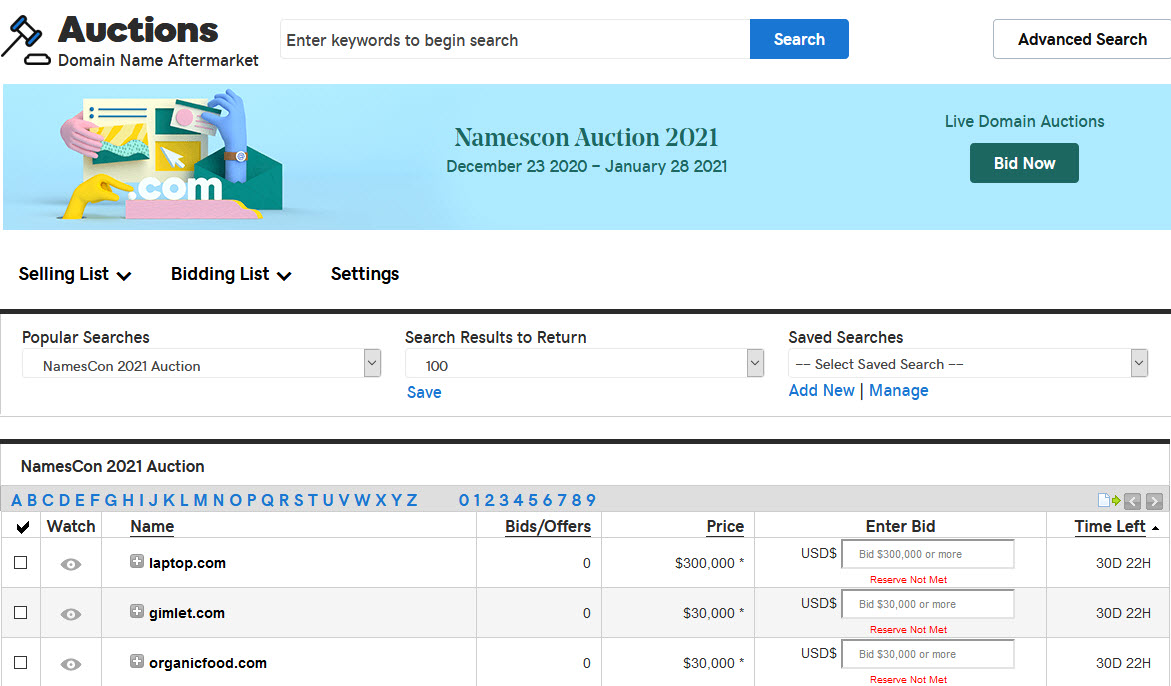 At the time of writing there were 30 domains in the auction. There are more names being listed as we get closer to the auction. You can see the reserves if you go into the domain details.
All domains are .com so far plus candy.net. Most domains (if not all) are from GoDaddy's NameFind portfolio.
You are able to bid on domain names on the GoDaddy Auctions website and on the GoDaddy Investor app.
Pre-bidding, which will determine the final names to be auctioned live, began on December 23rd. The live element of the online auction takes place January 28th, during NamesCon Online 2021.
The NamesCon Online conference runs from January 27 to January 29 2021.
You can still submit your domains for consideration now. If accepted, they will be listed and promoted in the NamesCon Online Auction.
GoDaddy is focusing mostly on .COMs for this auction, and quality is paramount.
The names you submit should appraise for around $5,000 and up on the GoDaddy appraisal tool.
You should include a reasonable reserve along with your submission.
Here are the 30 domains currently in the auction: (sorted by ascending creation date):
laptop.com
candy.net
hobbycircle.com
hooyah.com
hockeyroom.com
canvashats.com
summerdaze.com
basketballnut.com
favoritenumbers.com
travelclock.com
mycalling.com
organicfood.com
lump.com
enlighting.com
kapaa.com
derat.com
flooringcontractor.com
homedesks.com
rydz.com
readspot.com
greatsupply.com
gimlet.com
jumpies.com
notstopping.com
votol.com
saveinterest.com
absoluterule.com
bedmedia.com
hud55.com
triptone.com