Andrew Wilkinson, the founder of MetaLab in 2006, said that he has regretted not paying $17,000 for metalab.com in 2009.
11 years later and he now owns the domain name.
This is what he shared in a tweet today:
"It took 15 years of negotiation, but we finally own http://MetaLab.com. I remember the guy who owned it told me he wanted $17,000 for it in 2009. "That's crazy! I could buy a car for that!" I responded. Let's just say, I should have paid up."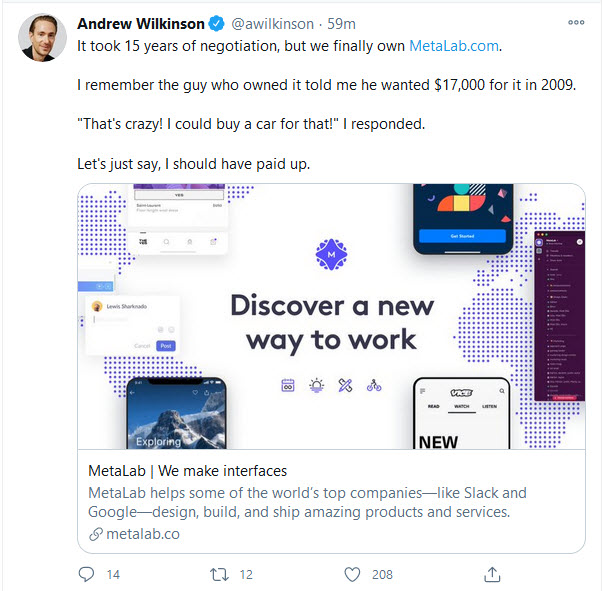 MetaLab is an interface design firm headquartered in Victoria, British Columbia that provides product design, engineering, and research services. Their clients include Slack, Google, Uber, Amazon, other Fortune 500 businesses and startups. The company, founded in 2006 by Andrew Wilkinson.
They were using MetaLab.co up until the purchase of MetaLab.com. MetaLab.co now redirects to MetaLab.com.
The acquisition was completed in October and (although Andrew has not yet shared the purchase price) I have a feeling that he paid a lot more than $17,000.
The owner in 2009 was MODELS.com, Inc. from New York. (That probably also owned a company named Metalab Communications. Or the other way around…)
I am 99% sure that the seller was the 2009 owner. (Or one of the company's owners.)
The announcement was made just an hour ago so I will update this post if the price is revealed.